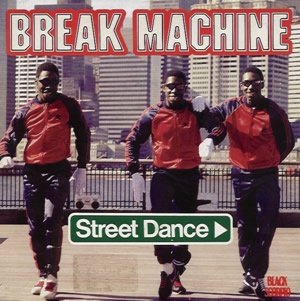 Break Machine sender mig tilbage i tiden.
Det her nummer får mig til at ønske at jeg var 9 igen og breakede i uderummet i det store frikvarter, på skolen. Vi fik installeret kobberplader på dansegulvet så vi kunne poppe og snurre rundt på gulvet med stil. Dengang hang jeg ud med de helt store børn på 12 🙂
Uhh jeg får helt kuldegysninger når jeg hører nummeret. Du kender det helt sikkert, hvis du er gammel nok – det er nemlig en rigtig klassisk fløjten.
Forsanger er Keith Rodgers og musikken blev produceret af Jacques Morali og Henri Belolo – du ved, gutterne bag Village People.
Jeg bliver simpelthen nødt til at lave en play-liste til 70er, 80er og 90er musik
Everywhere that you may go
We're jammin' in the street
All the people that you meet
Dance to the beat
If you come to new york city
You'll never be the wack
When you see us city kids
Spinning on our backs
I like the way he does that dance
When he glides across the floor
You know it really blows my mind
I always yell for more
I can't believe the things i see
Like diving on the ground
Then he's standing on his head
And groovin' to the sound
Streetdance, streetdance
Streetdance, streetdance
Streetdance, streetdance
Oh, i
People all around the world
Can break a way can do
All you need is the technique
And you can do it too
Take a look and you will now
This dancing to the beat
All you do is get on down
Spinning 'round and freeze!
All the people that we know
Are rockin' on the one
On the corner of chi' town
They're breakdancing for fun
At the night clubs in l.a.
Their master mix is on
On the sidewalks of detroit
They're poppin' all night long
Now just let your body move (streetdance, streetdance)
Put your feet into the groove (streetdance, streetdance)
When you feel your body shake (streetdance, streetdance)
Then you know you've got to break
Oh, i
Now just let your body move (streetdance, streetdance)
Put your feet into the groove (streetdance, streetdance)
When you feel your body shake (streetdance, streetdance)
Then you know you've got to break
Oh, i
Streetdance
Streetdance
Streetdance
Everywhere that you may go
We're jammin' in the street
All the people that you meet
Dance to the beat
If you come to new york city
You'll never be the wack
When you see us city kids
Spinning on our backs
Now just let your body move (streetdance, streetdance)
Put your feet into the groove (streetdance, streetdance)
When you feel your body shake (streetdance, streetdance)
Then you know you've got to break
Oh, i
Now just let your body move (streetdance, streetdance)
Put your feet into the groove (streetdance, streetdance)
When you feel your body shake (streetdance, streetdance)
Then you know you've got to break
Oh, i
Now just let your body move (streetdance, streetdance)
Put your feet into the groove (streetdance, streetdance)
When you feel your body shake (streetdance, streetdance)
Then you know you've got to break
Oh, i
Now just let your body move (streetdance, streetdance)
Put your feet into the groove (streetdance, streetdance)
When you feel your body shake (streetdance, streetdance)
Then you know you've got to break
Oh, i
Now just let your body move (streetdance, streetdance)
Put your feet into the groove (streetdance, streetdance)
When you feel your body shake (streetdance, streetdance)
Then you know you've got to break
Oh, i